Company: OLD BAY
What sparked our interest:
Growing up on the East Coast, I know that you can take the girl out of Maryland but you can never keep the OLD BAY out of her spice rack. For the ultimate OLD BAY lover, a Zoom virtual background will be sure to add the spice to your meeting.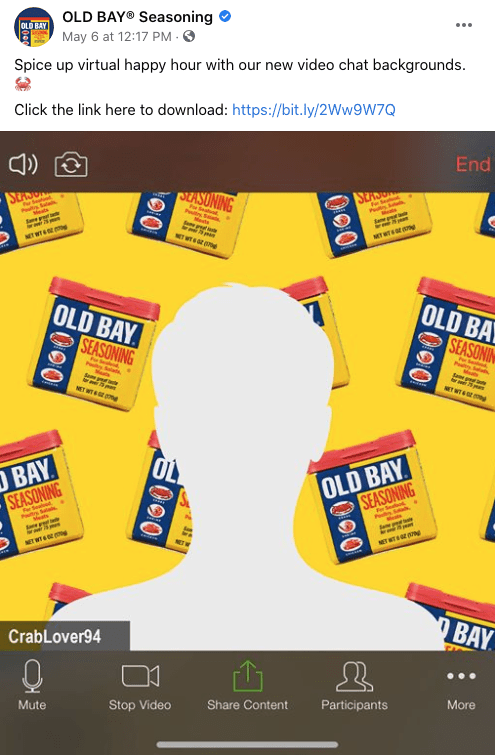 What we love: 
The transition from in person meetings to virtual meetings wouldn't be the same without the virtual background capabilities in Zoom. From venues to spices, companies are providing the backgrounds you need to block out the real view of your house. You no longer have to hide the dishes, the laundry basket, the kids. Virtual backgrounds take care of all of that for you.
The OLD BAY team provided two backgrounds to choose from.

What we love about it the most: For a Marylander, we take OLD BAY seriously as it is a main staple in our spice rack. Who wouldn't want to spice up their Zoom?
The 3 takeaways you should be doing today: 
Know your audience and what they would enjoy.
Be relevant.
Bring the spice to your content game.
About OLD BAY: 
There are two things you need to know about OLD BAY® Seasoning: 1. It's great on seafood. 2. It's great on everything else!
Disclaimer: 
Rockstarr & Moon is not affiliated or receiving money from the company highlighted above. The Spark promotes powerful marketing done well that we've discovered along the way.
Let's face it! When it comes to social media metrics, it's confusing and overwhelming. Every week there seems to be a new metric created. Luckily, your social media goals will help determine which metrics are most important to you and your business. For every goal you...
read more