Company: Piece Pizzeria
What sparked our interest:
We love our Chicago pizza! Piece is one of our favorites and we were heartbroken to see them close for a few weeks during this crazy period in time. (Don't worry. They have reopened and their marketing is on point!) Piece sparked our interest with a social media post featuring a patron email combined with a genuine heartfelt message.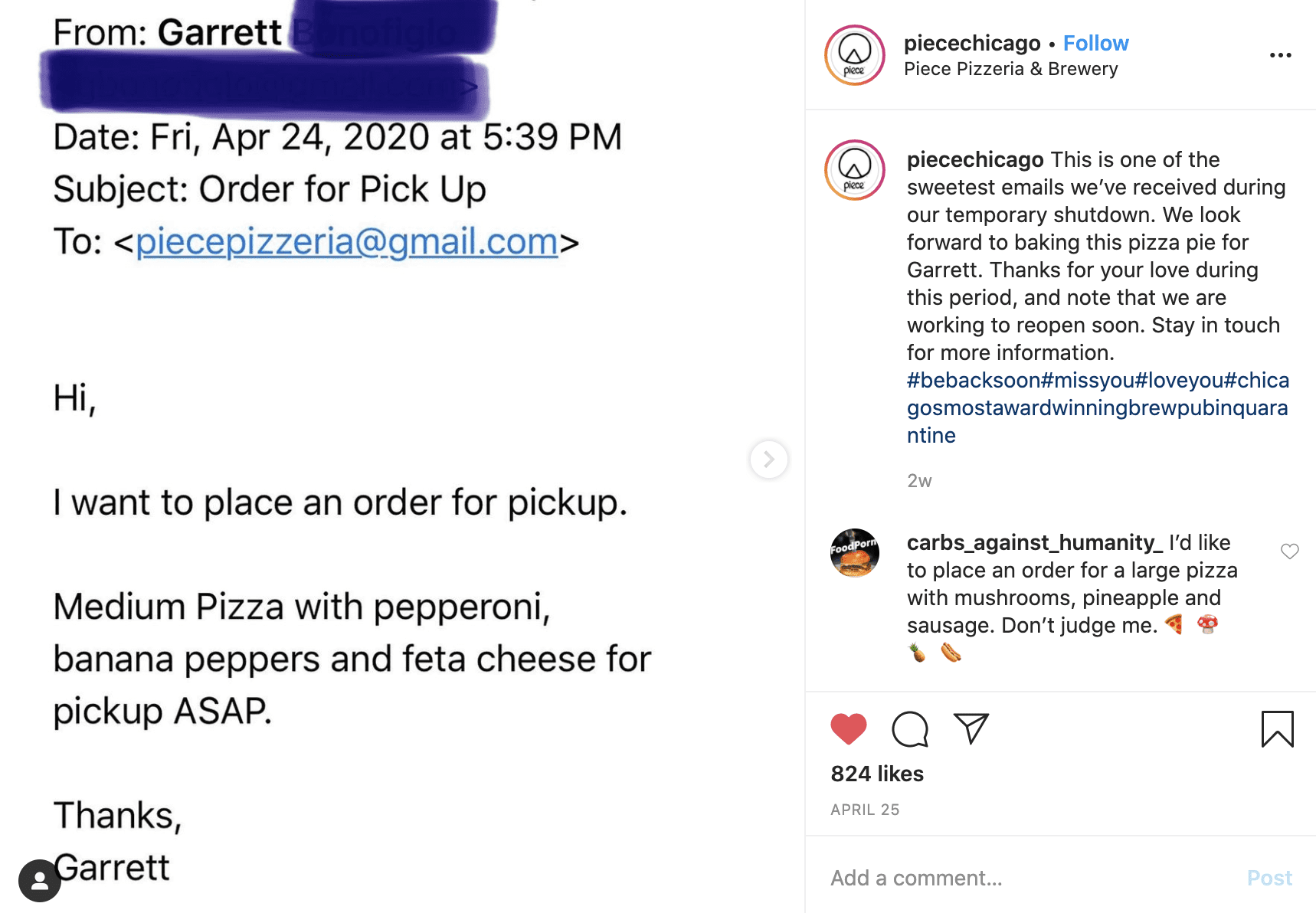 What we love: 
In these unprecedented times, the measures required to protect patrons from COVID 19 has forced restaurants to switch to delivery, contactless pickup or even shut down. It's a hard time for everyone and yet Piece found a way to engage their audience with a simple email from a patron during their shut down. The Piece team continued to post through the pause in service and this post is just one of the examples where they successfully sparked engagement while creating a Garrett Special. 
The 3 takeaways you should be doing today: 
Never stop engaging with your audience. Learn from the USPS: Neither snow nor rain nor heat nor gloom of night should stop you from posting quality content.
Keep your content lighthearted in challenging situations.
Remain authentic. Piece has a flair for content and throughout the experience, they keep their authenticity and gracefully thank their fans.
About Piece Pizzeria & Brewery: 
In 2001, Bill Jacobs and Matt Brynildson opened Piece with a focus on locally brewed beers and New Haven-style thin-crust pizza. The restaurant and brewery have been delighting Chicago pizza- and beer-lovers ever since.
Disclaimer: 
Rockstarr & Moon is not affiliated or receiving money from the company highlighted above. The Spark promotes powerful marketing done well that we've discovered along the way.
Your company's brand defines who it is while resonating with your ideal clients. It's the brand that builds trust in your business. The brand should be recognizable, memorable, and ideally timeless. But at some point you may feel it's time for a brand update when your...
read more