The Rockstarr Growth Amplifier
Increase Revenue, Accelerate Growth and Rock Your Business
This is a hands-on experience where our rockstarrs work with you to:
Build a custom, scalable Business Growth Amplifier
Create the perfect offer for your ideal client
Breakthrough your bottlenecks to create opportunities
Develop the plan to launch and optimize based on real customer data
…and, most importantly, put you on a path to DOUBLE your sales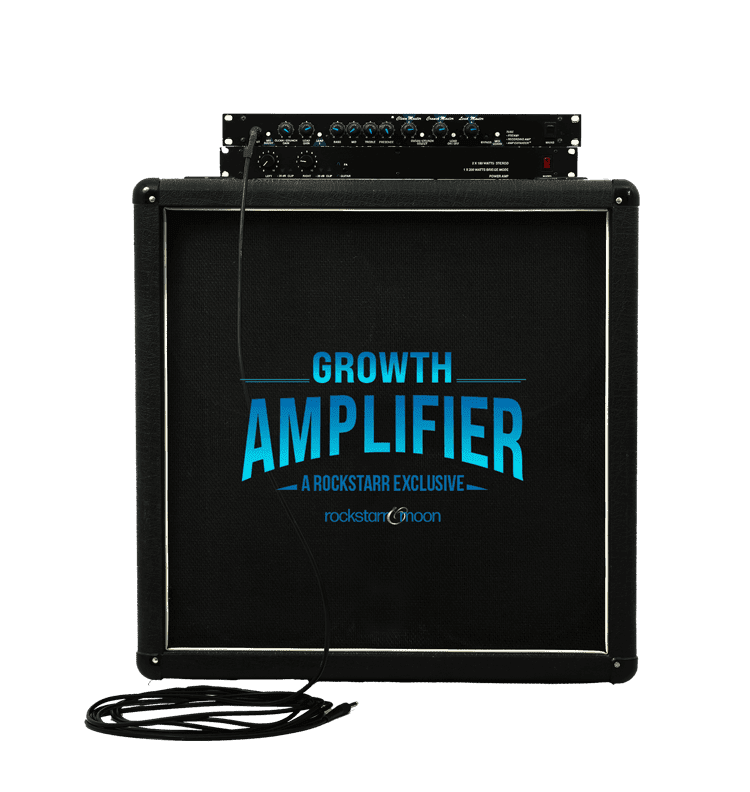 Establish your Ideal Customer Profile by diving deep into their motivations and desires
Develop an irresistible offer
Articulate your most compelling business advantage
By the end of the first session, you will have a rock solid foundation.
Prioritize initiatives to maximize impact
Define, assign and execute deliverables to launch your growth amplifier
Systematize the metrics that define success
After session two, you'll have exactly what you need to do, in what order, to kickstart growth.
Power up your launch with surefire techniques and accountability
Set your entire customer acquisition process to autopilot
Turbo-charge success with our expert optimization team
The Rockstarr Growth Amplifier isn't about teaching, it isn't about training, and it isn't even about playbooks. This is about building a customer acquisition system that works – even when you aren't – and that's exactly what you'll have in 90-days or less.
Rockstarr & Moon provided me a completely unique and personalized approach to get my new business launched. They took time understanding my needs and desires and tailored an appropriate launch package. The follow up support has been second to none.
Working with Rockstarr & Moon has been amazing. They are extremely knowledgeable and have built a working strategy for my business that I didn't see possible. I look forward to continuing my relationship with them. Business is booming!
Build a Rock Solid Foundation
Build your Ideal Customer Profile
Develop your Customer Acquisition Strategy
Create and execute your 90-Day Success Plan
1:1 Coaching & Accountability
Stay on the path towards success
Avoid shiny objects
Rockstarr Launch Plan
Plan your launch deliverables, assign accountability and ensure success
Fast Track Success
Build a Growth Scorecard to monitor success and quickly identify areas for optimization
Trainings & Playbooks
Gain exclusive access to expert trainings and playbooks
The team at Rockstarr & Moon helped me to clarify my marketing vision and define my brand. The insight and probing questions helped to get me thinking about myself and my brand in a way that I had not done before. Having them as part of my village of subject matter experts is extremely valuable
Working with Rachel and Jon at Rockstarr & Moon was an absolutely amazing experience. They worked with our team to help rebrand, rebuild and reinvent our website. From start to finish, they were incredibly responsive to the ever evolving needs of our team and of our project. They managed to help bring on our team back on track and focused on the goal at hand each and every time we wandered off course. I'd highly recommend them to any person or company looking to help take their business to the next level.
Who It's For
Here's who we can help...
Business Owners who want to get unstuck and grow
Founders & Entrepreneurs who want to avoid the painful "learning curves"
Freelancers & Solos who are tired of "going it alone"
The Growth Amplifier Is Unlike Any Other Coaching You've Experienced Before.
The Growth Amplifier is NOT a course. Yes, there are workshops and training, but we level up your business with the coaching and accountability that ensures your success.
The Growth Amplifier is NOT one size fits all. We'll focus on your business and your goals – and work with you to develop a rockstar strategy that guarantees you will meet them.
The Growth Amplifier is NOT a hack or tactic. We do not believe in shiny objects and have designed the Growth Amplifier to eliminate distractions and keep you and your team focused on the task at hand.
The Growth Amplifier is unlike anything you have ever tried in the past, which is why it will work better than anything you have ever tried in the past.
Increase Revenue, Accelerate Growth and Rock Your Business Goals
This is a hands-on experience where we work together to build a custom, scalable Growth Amplifier; breakthrough YOUR specific bottlenecks and barriers; hold you accountable to achieving your 90-day growth plan; …and, most importantly, put you on a path with tools and strategy to DOUBLE your sales.
With our Rockstarr Growth Amplifier, we deliver predictable growth using a strategy that includes the following:
A 3-step process that allows us to BUILD, DRIVE and OPTIMIZE your customized Growth Amplifier
Identifies the transformation your ideal customer is looking for in their life
Matches the unique value of your offer to this transformation
A value journey for the buyer to become and remain engaged with your business throughout the entire lifecycle
Playbooks and templates to help you get unstuck and tackle barriers and bottlenecks
A repeatable 90-day growth planning process
An accountability coach to ensure you meet your goals
Bonus #1: We will assess your tech stack and provide guidance on how you can simplify and automate.
Bonus #2: We will give you free access to a library of training materials to help you with the tactical elements, such as landing page design, copywriting, ad design, etc.
Bonus #3: We will assess the deliverables created for your Growth Amplifier and give you feedback on how to maximize their performance.
The Unbeatable Rockstarr Guarantee
If you are not satisfied with the strategy we have built together or believe it is not something you are able to execute, we will continue working with you 1:1, until you are confident that the strategy will bring positive results and put you on a path to double your business.
Yes, I want the Growth Amplifier
so I can increase revenue, accelerate growth
and rock my business goals.
Get Started Now for Just 3 Payments of $1,825
If you have any questions or concerns not addressed in the FAQs below, email us at info@rockstarrandmoon.com.
We're happy to help.
Frequently Asked Questions
Who should apply?
If any of the following describe you, then the Growth Amplifier is likely a good fit:
Founders and entrepreneurs who want to avoid the painful learning curves and discover a "shortcut" to success
Business owners who are looking to kickstart their growth, or take an already growing business to the next level
Freelancers & solopreneurs who are tired of going at it alone
What is the time commitment? Will this be a distraction?
You should plan to commit 2-4 hours per week outside of strategy and training sessions. The program is designed to help you leverage time your available time to get the most out of the program, without stand in the way of your day-to-day responsibilities.
What do I get with the Growth Amplifier?
This is a 90-day intensive program that will require you to work on building and executing your Growth Amplifier daily. We have 6-8 hours of online workshop sessions to kickstart the program that must be completed within the first 2 weeks. In these workshops, we will define your ideal customer profile and their value journey with your brand. We will also build your 90-day growth plan, a list of deliverables and action items, and a prioritized list of growth levers you can pull to maximize your time and the output of your business. After the first two weeks, we will meet 1 on 1 with you every other week to hold you accountable to your goals and provide additional strategy and training. We'll use this time to break through your specific bottlenecks and uncover additional opportunities for your growth. Throughout the entire program, you'll have access to the bonus offers, group feedback sessions, our community of like-minded business owners going through this same program and, most importantly, our rockstarrs. We'll just be an email or direct message away when you have a quick question or need immediate input that cannot wait for your next 1 on 1. And when your 90 days is finished, you will have an opportunity to continue working with your Rockstarr team and remaining part of the program at a reduced rate. Your rockstarr will go through these options with you during your program.
Are there requirements to apply for the Growth Amplifier?
To be a fit for the Growth Amplifier, you do need to meet some strict (but reasonable) criteria.
1: You must have a product or service to sell.
We aren't going to help you come up with a business idea from scratch. If that's what you need, then sorry, but this isn't the right program. If you are looking to start a business, check out the Rockstarr Biz Bootcamp to get started.
2: You must be willing to fail.
Testing and failure are critical pieces of any optimization process. If you are not open to trying new things, measuring their success and pivoting when necessary, then this program is not for you.
3: You must show up.
Do you have 2-4 hours a week set aside to actually do the work? If not, then this program will not work for you.
How long is the Growth Amplifier and what are next steps?
The Growth Amplifier is a 90-day program designed to kickstart your business. After the initial 90-days you have the opportunity to continue working with the rockstarr team and stay in the Growth Amplifier program. Please contact your rockstarr rep to learn more. 
What if I don't have a team to complete the deliverables?
If you don't have a team to execute the deliverables for your Growth Amplifier launch, we can help you find a resource or you can engage a division of Rockstarr & Moon dedicated to fulfillment. Talk to your rockstarr rep to get started. 
Is this a fully remote program?
Yes, everything will be run virtually. We will be using Zoom primarily for the live calls.
What if I just want to start a new business?
Starting a new business is great! But this program isn't for you … yet. Fortunately, we have a Biz Bootcamp designed to help you launch your new business and give you the foundation to succeed.